Let's talk about Keira Knightley.
Yep, she likes that idea.
I find her suuuupah annoying as an actress, but standing still, she's one of the most beautiful, elegant women I can think of. She was stunning in Anna Karenina, born to wear gowns and dramatic jewellery, and her press tour is going bangingly. This Erdem gown is so pretty it hurts my eyes. And her make up is always flawless. So I stole it.
UNF. That is an insanely beautiful neck-clavicle-
shoulder area
Here's my starting point, wearing just foundation. Yeah, yeah I know. Not much like Keira Knightley. Let's see what we can do.
Step 1: Highlighting
I used a Benefit Eye Bright pencil to make a dent in my appalling undereye bags, and Benefit Girl Meets Pearl highlighter on my cheekbones, to mimic the glow of Keira's make up. It's dewy and glowy but not shimmery or sparkly at all, so "liquid pearl" (whut) works nicely. I set my foundation on my T-Zone with Rimmel Stay Matte powder.
Step 2: Eyeshadow
Above the crease and onto the brow bone, I've used Soap & Glory Vanilla, from my shiny new Tricks of the Shade palette, which is an almost invisible 'nude' shade that makes a nice base. Below the crease, I used Models' Own cream eyeshadow in White Pearl, a super pale silver that adds shimmer.
Step 3: Eyeliner & Mascara
Thick liner over the lash line, a much finer long line for the flick. I was crazy for this kind of cat eye flick about five years ago, but I don't tend to go for such a long flick now. But it's fun! And makes a flattering shape on the eye. The most important thing is to keep the flicks as symmetrical as possible, because any discrepancy will be obvious on your face. I think Keira's flicks have a more dramatic upward sweep than mine do. I used Soap & Glory Supercat Eyeliner Pen but I didn't think it was going on black enough, so I filled it in with my trusty Maybelline Master Precise for a thicker bolder darker look. There's no eyeliner at all on the bottom lash line with this look.
Keira's lashes are dramatic and long but as far as I can tell she isn't wearing a false set, so I just curled them hard and used a thick coat of Maybelline Falsies Waterproof, which is new to me and ahhhhmazing. They look SO LONG I can't even cope.
Step 4: Eyebrows
Keira's eyebrows are GLORIOUS. They're thick and bold, but actually not that dark, so instead of my usual eyebrow pencil I used Mudhoney from the Soap & Glory palette, which is a mid brown eyeshadow, and filled them in with an angled brush. It makes for a softer, fuller look.
Step 5: Lips
The pale but intense pink of my Topshop Lip Stick in Powder Room makes a good substitute for Keira's lipstick, but the lip crayon is flat and matte while hers has a nice gloss, so I topped it with a coat of clear Soap & Glory Sexy Motherpucker gloss for the shine.
Final look!
I totally look just like her! Twinsies!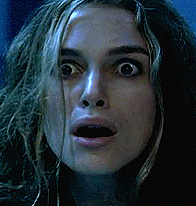 Oh. Well, all right then. Whatever you say, Keira.