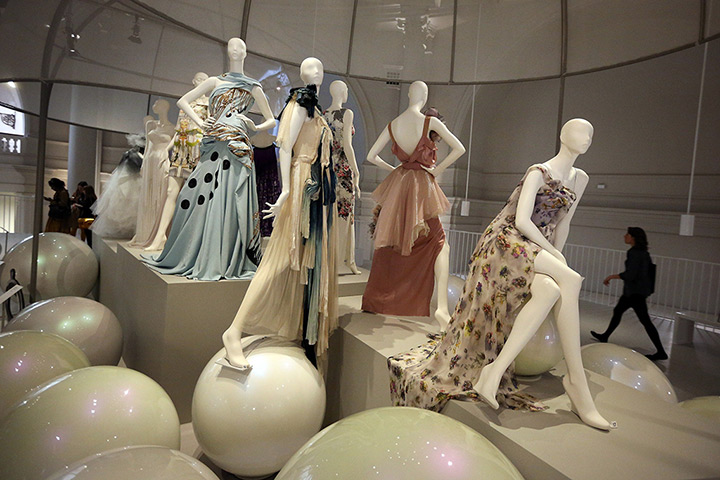 image via The Guardian
This gorgeous exhibition in the fashion gallery at the V&A contains some stunning dresses, modern and vintage, classic and avant garde, and displays most of them to their very best advantage.
The downstairs section of the exhibition is mostly filled with the classic vintage pieces, including dresses worn by the Queen Mother (it was brilliantly hideous) and Diana (this handsome pearl covered gown and bolero jacket). They're set in glass cases, but with odd giant cut out paper props: four foot high printouts of brooches and hair decorations and things. They were kind of ugly and distracting. Why not just have REAL jewellery and mirrors? In fact, mirrors would really have worked well here; the ground floor section of this exhibition was really under lit, and mirroring the walls of the cases would have brightened everything, as well as providing views of these gowns from more angles, which I'd have appreciated, and making it easier to see the stunning craftsmanship and impeccable detailing which goes into them.
Upstairs on the mezzanine floor, however, it's a different and more exciting story. This is where the modern gowns are, and instead of being boxed into glass windows, they're displayed standing and are (hurrah!) viewable from almost every angle. The lighting still tends more to the dramatic than to the bright, but creates a stunning display.
There was impressive range of designers featured; Erdem, Mary Katrantzou, Gareth Pugh, Jenny Packham, Jonathan Saunders, Giles Deacon, Marchesa, and (bringing a tear to my eye) Alexander McQueen. The labelling in this exhibition is disappointingly lacking; the most interesting pieces were accompanied by a photo of them being worn and a story about their creation, like the custom silver dress worn by Beyonce to the Obama inauguration party in 2009. The pieces which had barely any labelling, nothing more than "A/W 11", lost a lot in interest value, since of course the purpose of a dress is to be worn by a real human being; without that, this might seem little more than a very high end shop display. "Nowadays, the private balls and parties have given way to charity balls and red carpets" is hardly useful information.
Felicity Brown - AW11. On the left in this picture on the right. This was a fascinating and beautiful, if not exactly pretty, deconstructed look cream and deep blue silk dress. Usefully, it was displayed on a rotating stand.
Case in point: this Alexander McQueen feather dress looked fantastic worn by Daphne Guinness. It was a brilliant pick for this exhibition; I'd have liked to see more famous modern gowns. This was made even more notable because it starred in Guinness's genius performance art window display; she prepped for the 2011 Met Gala, to which she wore this dress, in the windows of Barney's in New York.
So, things I would change about this exhibition:
Brighter lighting
A couple more really famous, iconic gowns - maybe something worn by Duchess Kate, Cate Blanchett, Audrey Hepburn, at least someone known for being more impressively stylish than Sandra Bullock.
Way more information on the labelling. I want to know about these gorgeous dresses as well as just reading about them.
More dynamic displays. Dresses, made to be worn, lose something in static, accessory-less, mannequin state. I want to feel that they've been loved, danced in, made somebody feel beautiful. This felt a little sterile in places.
Overall, though, this is a gorgeous exhibition packed with beautiful gowns that made me excited. It's open until January 6th. You should go.
Here's a handful more photos. This exhibition didn't allow any photography at all (or even sketching, which seems a bit mean), so I don't own any of these pictures. The links to my sources are in the alt text.